GRANTS
24697 County Rd. 311
Pittsburg, Missouri 65724

Phone: 816.363.3968
E-mail: Reservation Secretary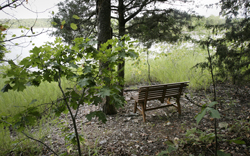 Deep within the mission of the Hermitage Spiritual Retreat Center is the inseparable interrelationship between spirituality and social justice. It is our hope that those who draw apart for renewal return to their place of living and working with renewed energy for engagement in activities of mercy and justice.
To model this commitment, the Board is committed to contributing 10% of our donations to mercy and social justice efforts in our area.
In addition, the Board offers small one-time grants of up to $500.00 to organizations and/or individuals for projects within 250 miles of HSRC that "promote peace and justice in the midst of the noise, competition, and violence that often characterizes our society—for work in such arenas as poverty, health-care, education, spiritual formation, community organizing, and prison ministry."
The Board of Directors invites anyone who wishes to receive aid in such ministries to complete the application form. Please use our form here [word document]. Email your application as an attachment to: Outreach Coordinator.
---
© Hermitage Spiritual Retreat Center. All Rights Reserved